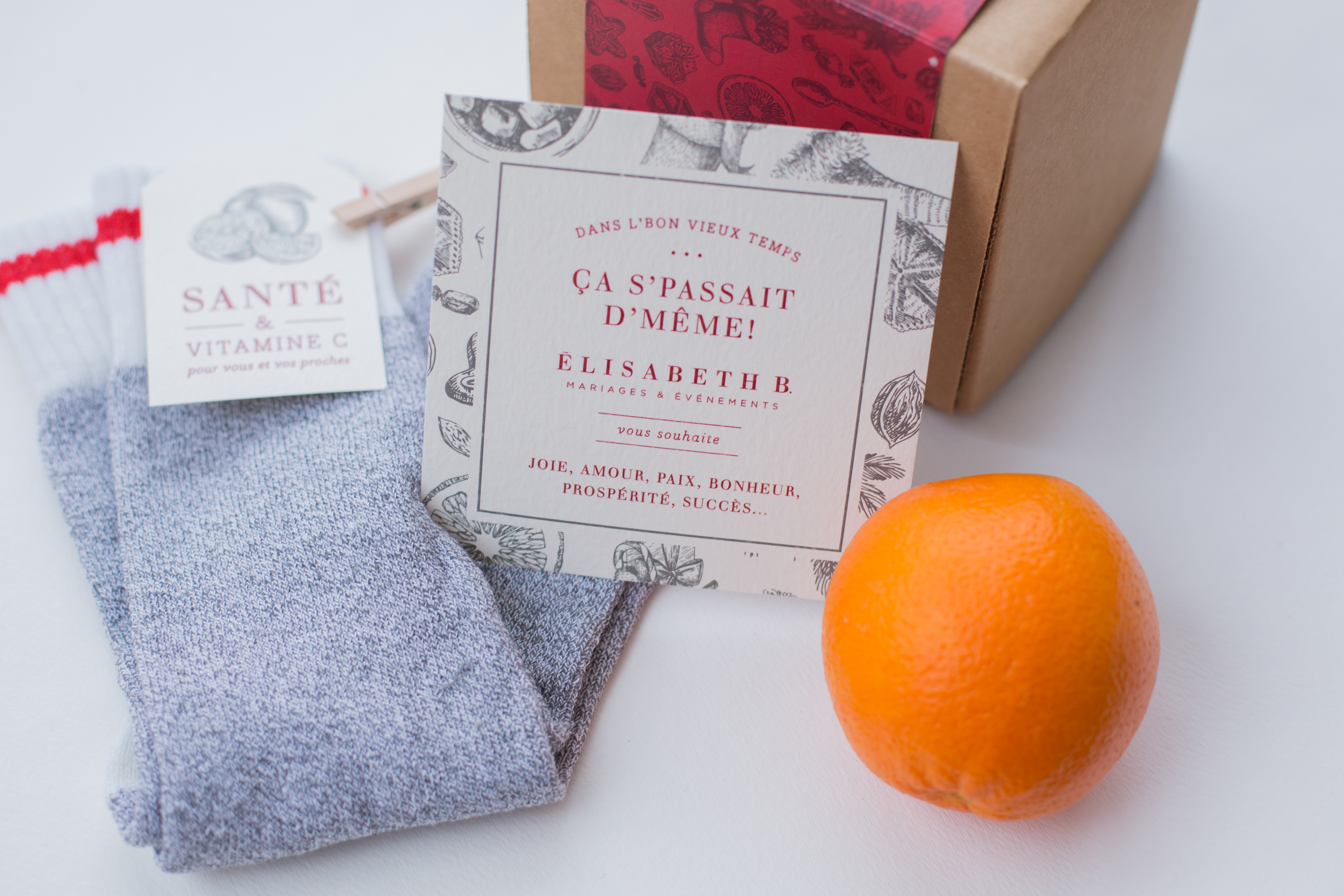 An Orange for Christmas
For several years now, I have sent my clients and suppliers my holiday wishes in December. And to make them extra heartfelt, I throw in a little something fun. A simple little present just to bring a smile.
Once, I sent a snowflake-shaped cookie cutter with a wish for them to take time to make Christmas cookies. Another time, it was a pair of scissors and tape—those crucial tools for Holiday giftwrapping that we always seem to set down, where again? And last year, I sent a pair of oven mitts to wish everyone happy holidays without getting burned out! Curious to see a few snapshots of these creations? Come on over to Pinterest!
This year, I wanted to send wishes of joy, happiness, success, and especially good HEALTH. That's what gave me the idea to send some vitamins: an orange in a stocking (Uh, do I have to tell you that the vitamins are in the orange?). In the good ol' days, this was a fabulous gift. It was what good children got! I guess times have changed. 
So, my wish for you is good health. This is probably one of the most common wishes and so may seem a bit dull. That is, until a loved one falls ill. Until health is gone. Then, and only then, do we realize just how precious health truly is. 
For my family and me, health means beating cancer. It probably means the same to many of you given that one in two Canadians will have cancer in his or her lifetime. And one in four will die from it. With numbers like these, we all know someone who has or has had this illness. I know I can name many (too many) people among the statistics.
I watched a documentary recently that declared we'd soon beat cancer. Sometime around 2030. But for my family, soon has to be now.
In the face of this illness, we feel so powerless. I thought that, instead of just sitting there feeling sorry, I could at least support those who are making a difference. So, I donated to the Institute for Research in Immunology and Cancer and to the Canadian Cancer Society so that research will continue, so that even more discoveries are made faster and so that "soon" doesn't take too long in coming. Well before 2030.
If you want to do something, if you want to lend a hand to those discovering new anticancer therapies or give the gift of health and a little hope, I encourage you to donate as well. This way, maybe sooner than planned, we'll talk about cancer like these oranges in a Christmas stocking: a thing of the past.
This year, all the oranges I'm giving are dedicated to Matt B. and to everyone whose only holiday wish is to regain their health.
 May you have a very Merry Christmas with all those you love!
 Élisabeth B.
 Note to Matt B.: Don't give up. Keep pounding! xoxo
---
About IRIC: An ultra-modern research hub and training centre located in the heart of the Université de Montréal, IRIC was created in 2003 to shed light on the mechanisms of cancer and discover new, more effective drugs to vanquish this plague. With its 400 passionate researchers, IRIC is a true leader in cancer research. For a cancer-free future, you can make a donation to IRIC.  
A special thanks to Mimosa (graphic design) and Valérie Busque (photo)!